Web Advertising and Trafficking Features
Web Advertising Order Entry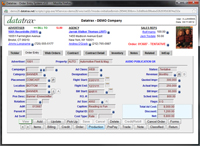 Datatrax® organizes and displays all pertinent data for quick entry and analysis: Contacts for both Advertisers and Agencies, Advertiser/Agency billing relationships, Advertisers' WEB Ad schedules, Deferred and Recognized Revenue, A/R and Credit History, WEB Ad Order splits between more than one sales representative and Ticklers/Reminders to facilitate Order Fulfillment through CRM (Customer Relationship Management) - to name a few.
Web Billing Standard Features
Emailable Contracts, Acknowledgements and other documents
Track Start Date, End Date and Digital Ad ID information
Manage Deferred and Recognized Revenue
Record Guaranteed Impressions over life of the Contract
Track, Websites, Banners, Window Shades, Sponsorships and more
Bill ancillary items such as Design, Creative, and Bonuses
Automatic Credit Checking based on Terms and Credit History
Quick Pick-Ups and Order Copy for one or multiple Orders
Multi-Issue Order Entry from standard Order Entry screen
Unlimited Rate Cards and Advertising Space Types across Profit Centers
Web Space and Position Inventory
Enter Advertiser Prepayments and Credit Card Payments on the Order Entry Screen
Monitor Order Status "at a glance" including all Past History, Current and Future Orders
Exportable Data Interfaces to Excel and third party software applications
Email links to send Advertisers/Agencies PDF forms, letters and reminders
Deferred Revenue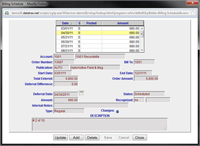 Datatrax® also tracks the revenue side of the business. Datatrax® can auto-create the General Ledger transactions recognizing monthly revenue and recording the off-set to deferred revenue (debit and offsetting credit). These transactions can be imported from the viewable G/L export file, or you can decide which elements you wish to "pull" from the G/L Table.
Revenue can be calculated for monthly recognition, one-time recognition or recognized based on number of days and reported monthly.
Datatrax
®

Integration

Datatrax® integrates Sales, Production, Fulfillment, E-commerce, and Accounting. One Unified database to collect and analyze your evolving data.

Datatrax® has hundreds of satisfied users managing over a thousand publications. Our Customer Support Department answers better than 96% of all incoming support calls, live, during normal working hours, as they come in, and by a trained Datatrax® support professional.

Datatrax® is scalable from a single user stand-alone system to publishing companies with over 250 simultaneous users.